Welcome

Mission:

The Internet has no borders nor does TGDESIGN.CA. Our mission is to help your company create an Internet presence worldwide and develop a global communication strategy placing the power of the web in your hands. From small to large companies, TGDESIGN.CA is the destination to a single source of high-quality services and innovative Internet solutions.
TGDESIGN.CA is designed to promote your business online and to help you attract new clients and access new markets around the world.

Why The Internet?
In 1999, there were more households going on the Internet than ever before. It has been estimated that by now at least 90-95 percent of households across the world will have (PC's) personal computers. More and more people are looking to the Internet for products and services. A Custom Web Site enables your company to display itself to the rest of the world. It allows a powerful advertising and marketing aspect to your business and lets any potential client to discover your product or service. Depending on the size of your Web Site you can post weekly newsletters, keep your clients up to date, have a guestbook, a message center and gain sales leads or maybe you just want a personal Web Site to give yourself a shining spot online. Your presence will be world wide - 24 hours a day and 7 days a week.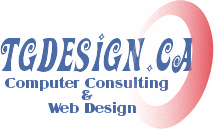 All prices are subject to change.
TGDESIGN.CA is independently owned and operated.
Copyright © 2017 TGDESIGN.CA. All Rights Reserved.